Productivity
Templates
A4 Week to View with Notes
Please click image for larger version (72 dpi, 50K) or download the 300 dpi A4 Vertical Diary With Notesversion (192kb)
The whole week runs down the page, with notes / to-do / action list space.
At a readers suggestion I have also uploaded a PDF, 669KB.
Please email me if you find these useful or can think of any alterations I should incorporate.
I am (slowly) working on making this template in OpenOffice ala D.I.Y planner, and resizing for the pocket Moleksine.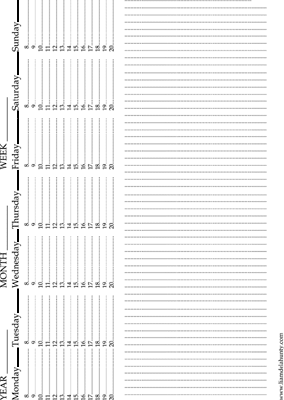 Links
Productivity
Informational